August 3, 2021
4 Reasons Why Visibility is Crucial in Lifecycle Management
Application Lifecycle Management
Product Lifecycle Management
Within application lifecycle management, one of the most significant challenges for practitioners and managers alike is visibility. More specifically, the lack of real-time visibility at any given moment of development. 
With a comprehensive lifecycle management tool like Helix ALM, your entire team can enjoy clear visibility throughout the lifecycle of your product. Here are four reasons why visibility is crucial for success in lifecycle management.
1. Time Savings 
A major visibility challenge solved through a lifecycle management tool is time savings. Instead of scrolling through rows and rows of historical data in a spreadsheet, a lifecycle management tool allows users to quickly download a report or view a dashboard that has captured all of the information that they need. 
Without a tool automating this element of lifecycle management, a team has to assign an analyst or team member to compile a tedious report. That assignment equates to hours, in some cases days, worth of time that the highly-skilled team members could otherwise allocate to deadline-driven tasks.
With automated reports and dashboards, you can monitor progress, evaluate bandwidth, and glean strategic insights.
2. Real Time Insights 
Does your current tool provide you with real-time insights? It should. You want to generate reports to extract real-time insights on-demand, regardless of where you are in the product lifecycle. 
These insights can arm you with a variety of essential pieces of information to update shareholders on, including:
How many requirements have been met

How many requirements remain

Status of a sprint

Overall project progress

Status of current and future tests.

And more
3. Standardized Reporting
So, you're saving time with your automated reports, and you're gaining valuable insights, but what do your reports look like? A common pain point in product development is visually inconsistent reports. The way a manager's report varies from an engineer's report, and another department's report will look different than both. 
You want your reports to be structured the same, no matter who is pulling them. With Helix ALM, teams can select from a vast collection of standardized templates, as well as configurable options. By standardizing the reports, your team is able to disseminate the information without wasting time with formatting quickly. 
Helix ALM makes reporting quick and easy through superior visibility -- from measuring impact to monitoring burn down rates, Helix ALM can do it all.
While Helix ALM's structured and out-of-the-box reports allow organizations to achieve instant visibility, there is always a need to align with unique workflows or processes. Under such capacity, Helix ALM also allows customization of reports that would ensure clarity around any unique visibility requirements.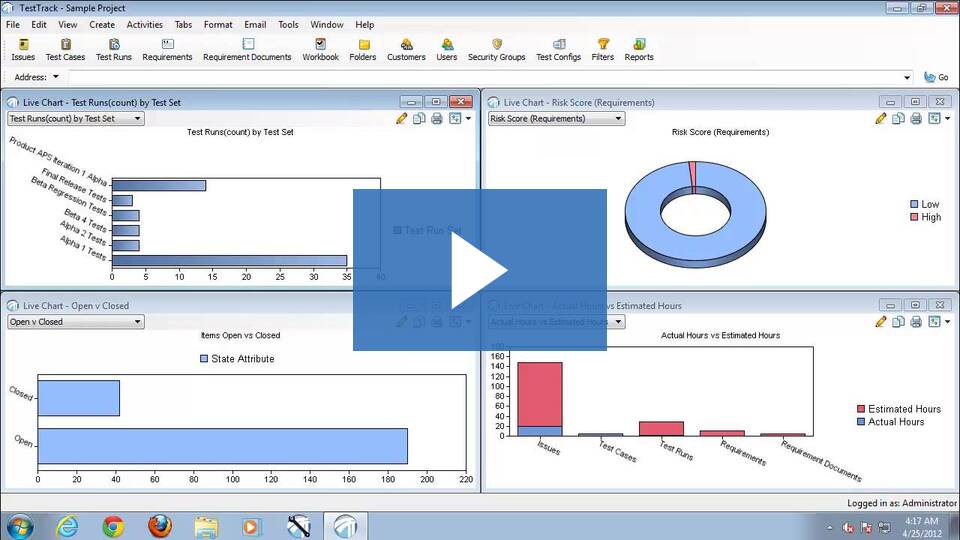 4. Reduce Risk
Visibility is critical in risk management. If you're anchored down by bug testing tools and spreadsheets, it takes a considerable amount of time to resolve issues. Worse yet, it's difficult to measure the progress of the issue management if you lack real-time visibility. 
With a lifecycle management tool providing you total clarity, you're able to prioritize and track issues, automate team member notifications, measure the status of bugs, and easily report on the overall progress. All of this leads to reducing risk and staying on deadline for your release.
Experience Total Clarity with Helix ALM
Want to learn more about how benefits of having real-time visibility throughout the lifecycle of your product? Watch our most recent webinar: The Importance of Visibility in Lifecycle Management.